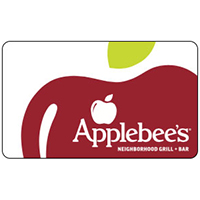 $25 Applebee's® Gift Card
An Applebee's® Gift Card gives you tons of tasty options and at a price worth celebrating. Start with Build Your Sampler platters, which have all of your crew's favorites, plus new flavors you'll crave. Or go with one of our original Burgers, featuring flavorful toppings seared directly into 100% fresh, never frozen, ground beef. For our guests looking for wholesome ingredients, satisfying portions, loaded with flavors and not calories, our Lighter Fare our Lighter Fare options include meals like the Shrimp Wonton Stir Fry or Cedar Grilled Lemon Chicken. No matter what you get, you'll know that Applebee's® is committed to serving delicious food – just the way you like it.

>
Program Note:
May not be valid at locations outside the US contiguous 48 states. Please visit the merchant website for more details.